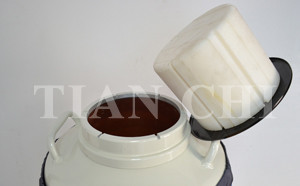 Henan TianchiInstrument & Equipment Co., Ltd. has advanced production liquid nitrogen biological container technology of the modern enterprise, the production of products, widely used in livestock breeding livestock semen frozen storage; medical industry such as human organs, skin, blood, cryopreservation of cells; biological engineering, industrial cooling assembly, cold treatment of metallic materials, low-temperature superconductors, such as crushing and field.
Biological cryogenic liquid nitrogen container for storage and transportation is specially designed for long time statics storing or transferring biological samples. The containers are made of high intensitive aluminium alloy with unique patent technology of evacuation and multi-layer insulation technology ensuring an extremely low loss rate of liquid nitrogen evaporation and high economy.
Specifications
Liquid Nitrogen Biological Container For Storage
Dewar vessle
High-strength aluminum alloy structure
Lockable device
Liquid Nitrogen Biological Container For Storage
Dewar vessle
Our advantages:
1. More than 10 years disign and manufacture experience to ensure stable quality;
2. Perfect after-sales service with free-replacement policy;
3. Large capacity production line for prompt delivery;
4. Competitive price.
Export area: the south central United States, the United States, Asia, Europe, Africa, Oceania and other countries
Product packaging:
1.Export standard packaging.
2.Neutral bleached paper carton.
3.Double corrugated boxes.
4.Foam packaging,belt on the carton ,rainproof ,Crack control.