Henan Tianchi Instrument Equipment Co., Ltd. is a modern enterprise with advanced production of liquid nitrogen biological container technology, to buy liquid nitrogen tanks on the election day Chi, not wrong, absolutely guaranteed.
characteristics:
1.The use of high-strength aerospace aluminum manufacturing;
2.The product is easy to long-term preservation of biological specimens, easy to carry;
3. Equipped with a protective cover, can prevent the use of bump, bump;
4. The number of cylinders, easy to identify and independent access to samples;
5. Matching lock cover, in order to protect the safety of storage samples;
6. High vacuum multilayer insulation design, 'provide not less than five years of vacuum.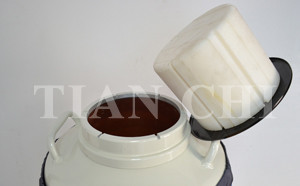 Our advantages:
1. More than 10 years disign and manufacture experience to ensure stable quality;
2. Perfect after-sales service with free-replacement policy;
3. Large capacity production line for prompt delivery;
4. Competitive price.
Our company's product model is complete, the quality is guaranteed, there are any problems within one year, can exchange, 5 years of vacuum,Users can rest assured that the use of.
We supply good quality Liquid Nitrogen Biological Container.More detail information about Liquid Nitrogen Biological Container, please feel free to contact us!
Company: Henan Tianchi Instrument & Equipment Co., Ltd.
Tel: +86 -18037306236+86 -0371 -55688298
Fax: 86 -0371 -65715725
E -mail: 604897362@qq.com
Address:Jinshui District, Zhengzhou City, Zheng Hua Road No. 10