30-50mm CaF2 80%-95%min Fluorspar Briquettes
Main Products
Product Introduction
Product Application
Ceramic
Fluorspar is used to make glazes and surface treatments that produce hard glossy surfaces, opalescent surfaces and a number of other appearances that make consumer glass objects more attractiveormoredurable.
Uesd in cement
Mineralized cement clinker agent, can reduce the sintering temperature, easy to calcination, sintering time and save energy.
Hydrofluoric Acid production
Chemical industry to manufacture hydrofluoric acid (HF). The HF is then used to manufacture a variety of products which include: fluorocarbon chemicals, foam blowing agents, refrigerants andavarietyof fluoride chemicals.
Ceramic grade is used in the glass
Production emulsifying glass, opaque glass and colored glass material, can decrease the glass melting temperature, improved melt, melting speed, which can reduce the fuel consumption rate.
As a flux in steelmaking to reduce slag viscosity
Refineries add a "flux" to iron ore and coke mixtures to lower the melting temperature. This lowers the operating temperature of the furnace, thereby reducing energy consumption andproductioncosts.The flux also aids in the formation of the "slag" on the surface of the molten steel that contains most of the impuritie
Product Parameters
Chemical Compostion of Fluorspar Briquettes
| | | | | | |
| --- | --- | --- | --- | --- | --- |
| CaF2(%)Min | SiO2(%)Max | S(%)Max | P(%)Max | P2O5(%)Max | R2O3(%)Max |
| 90 | 2.6-6 | 0.2 | 0.1 | 0.3 | 2.5 |
| 85 | 3.5-6 | 0.2 | 0.1 | 0.3 | 2.5 |
| 80 | 3.5-6 | 0.2 | 0.1 | 0.3 | 2.5 |
| 75 | 4-6 | 0.2 | 0.1 | 0.3 | 2.5 |
| 70 | 5-8 | 0.2 | 0.1 | 0.3 | 2.5 |
Product Details Show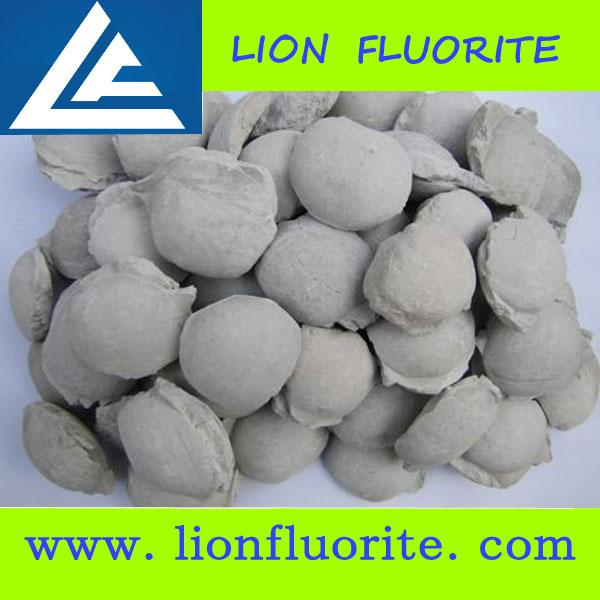 Packing & Delivery
Package and Delivery
We provide samples for free.

Jumbo Bag Packing or as customized.
Delivery within 15-20 days after get the L/C or TT Advance.
Timely Shipment.
Why choose us
What we do
-Exploring.

-Mining.

-Processing.

-Marketing.

Primary source, the most competitive price!
What we have
Two Fluorspar Power Flotation Plant.
Three Fluorspar Mines.
Proved reserves 1.37 million tons fluorspar.
Flotation plant yearly processing is 90,000.00 tons.
Fluorspar lump yearly processing is 100,000.00tons.
Source control on the quality of the product!
Our advantage
Established in 1996,we are experienced and professional.
6 years experience of global market,we are international.
Timely shipment and third party quality control,we are reliable.


Aki Dai-Sales Representive
Luoyang LionFluoriteMining Co.,Ltd
Tel:0086-379-65956991
Cell:0086-132 7154 6208
Email:sales2@lionfluorite.com