We make available a highly efficient range of Liquid Nitrogen Containers all over the country.
We are known for fulfilling the orders for Liquid Nitrogen Container with the ones that conform to the best standards.
Product parameters:
Model:YDS-3
Volume(L):3.6
Caliber(mm):50
O.D(mm):224
Height(mm):450
Net Weight(kg):3.2
Static Storage(D):35
Static Power Dissipantion(Kg/D):0.08
Safe use:
The container can only be used for filling liquid nitrogen, please don't filling with liquid chlorine, liquid oxygen, liquid ammonia, liquid gas, in use is strictly prohibited during the collision, so as not to damage the tank of high vacuum state; it is forbidden to use storage tank transportation tank, nitrogen transport and need to special transportation tank; prohibit the use of sealing plug sealed tank mouth, in order to avoid liquid nitrogen to evaporate to form nitrogen increased pressure and accidents.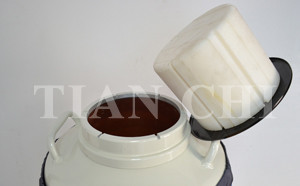 We can guarantee ourLiquid nitrogen containers at least5years working with normal using.Any questions after sale are welcome and we will try our best to solve your problems.Welcome to call us!
Company: Henan Tianchi Instrument & Equipment Co., Ltd.
Tel: +86 -18037306236+86 -0371 -55688298
Fax: 86 -0371 -65715725
E -mail: 604897362@qq.com
Address:Jinshui District, Zhengzhou City, Zheng Hua Road No. 10