1.Raw material feeding
The limestone in the plant yard will be carried by tractor shovel and feed to hopper, it will be discharged from hopper to vibrating feeder and sent to vibrating screen for screening through belt conveyor. The size ≥20mm will be sent to pre-heater by conveyor. And size less < 20mm will be carried away.
2.Calcination
The limestone in the pre-heater will be preheated by the hot air, then it will be discharged to rotary kiln though chute that connecting pre-heater and kiln, it will stay in the kiln for 1.5-2 hours for calcination, during the process, it will be calcinated with a temperature around 1300 °C, limestone decomposition, release of CO2, become quicklime. Then the lime moves to vertical cooler for cooling.
3.Lime conveying
Lime will be discharged to a chain conveyor by vibrating feeders in the bottom of vertical cooler, it will be lifted to storage hopper by bucket elevator. So the lime in the storage hopper for dispatch or hydration workshop.
4.Dust filtering .
There are two dust filtering systems, one is in the kiln inlet, dust will be filtered by bag filter then the clean gas will release to air. The other is dust from lime storage hopper and feeding of bucket elevator will be filtered by bag filter then release to air.
3.The process advantage of lime plant equipment
The calcination process adopts pre-heater+ rotary kiln+ vertical cooler system,it can reduce the fuel consumption 40%, increase output capacity 30% due to reuse the waste gas in the system. The other advantages are in the following.
1.The lime quality is very good and high activity.
2.It is especially suitable for large-scale lime production.
3.The production running is stable, the whole process using negative pressure, air flow freely and high production safety
4.Using the bag filter system, it can reduce the exhaust gas less than 50mg/Nm3
5.It shorten kiln length, reduce heat loss and area.
6.Cooler and kiln hood cover designed together, good seal, saving area.

Production Flow

Active lime production flowchart: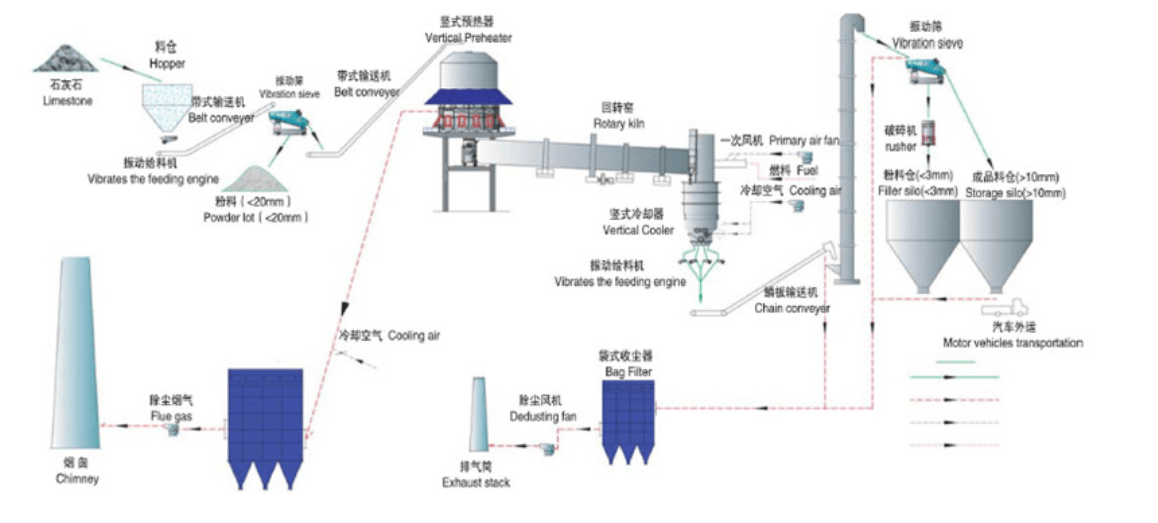 Company information:


Henan Zhengzhou Mining Machinery Co., Ltd. was founded in 1956 and it is the designated manufacture plant of National Mechanical & Electrical Industry Bureau in Henan Province for cement building materials and beneficiation equipments. After more than half a century of development, Henan Zhengzhou Mining Machinery Co., Ltd has developed to an area of 70000 square meters, plant construction area of 40000 square meters with six modern workshops, two heavy machinery workshops, one Municipal Technology Center and more than 260 sets of machining, assembling, welding and other equipments. Its fixed asset value has exceeded 100 million RMB. Henan Zhengzhou Mining Machinery Co., Ltd has become an integrated modern enterprise with scientific research, design, development, manufacturing, sales, installation, commissioning and training services.
The main products of company include: ball mill, rotary kiln, vertical preheater, cooler, crusher, metallurgical coke oven, magnetic separator, flotation machine, classifier, feeder, bucket elevator, preheater, dust collector, elevator, drier, and other equipments relate to metallurgy, cement, lime, mineral processing, refractory, chemical industry. The products of Henan Zhengzhou Mining Machinery Co., Ltd have been sold to every province of China and exported to Russia, Korea, Vietnam, Malaysia, Nepal, Bangladesh, Mexico, Armenia, Africa, South America and other countries and regions. At present, Henan Zhengzhou Mining Machinery Co., Ltd is the largest equipment supplier for magnesium production and has been on the leading position for 25 years in the market. Henan Zhengzhou Mining Machinery Co., Ltd has modern and mature administration system and perfect quality control system. It has got the ISO9001 International Quality System Certification, Environmental Protection Certification and many other certificates, patents and honors.