Liquid nitrogen container 35L125mm
Liquid nitrogen biological container rust proof aluminum alloy, with high vacuum multi-layer super insulation structure and weight. Widely used in animal husbandry, food and scientific research departments. It can also be applied to the national defense, machinery, medical, electronic, energy and other industries. With the development of science and technology and the needs of industrial and agricultural production, it will rapid development, and show a bright future. We can provide you with the best choice of products with different specifications 2 liters to 100 liters.
Delivery method:Payment to delivery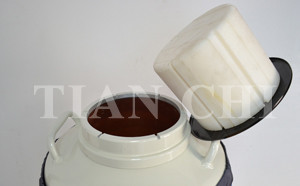 Model:YDS-35-125
Volume(L):35.5
Caliber(mm):125
O.D(mm):461
Height(mm):740
Net Weight(kg):15.2
Static Storage(D):110
Static Power Dissipantion(Kg/D):0.25
Company: Henan Tianchi Instrument & Equipment Co., Ltd.
Tel: +86-18037306236+86-0371-55688298
Fax: 86-0371-65715725
E-mail: 604897362@qq.com
Address:Jinshui District, Zhengzhou City, Zheng Hua Road No. 100