Our company is offering a wide range of liquid nitrogen containers, which is designed to safely and conveniently transport and store small volumes of liquid nitrogen in laboratory or workplace. These are available in various capacities and sizes along with reference tube. Our range combines superior vacuum design and multiple layers of super insulation technology to achieve superior thermal performance.

The Product is made of aviation aluminum and structured with high-vacuumed super adiabatic multi-layers. It is light by weight and the daily evaporation rate of liquid nitrogenis very low. The product is applicable to long-term and low-cost indoor static storage of sperms,embryos, stem cells and other biological goods. There are differentspecifications varying from 3 to 100 liters for your ideal choice.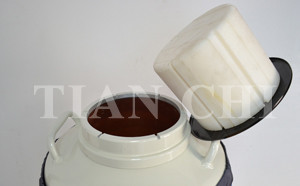 Model:YDS-6
Volume(L):6.7
Caliber(mm):50
O.D(mm):284
Height(mm):504
Net Weight(kg):4.5
Static Storage(D):65
Static Power Dissipantion(Kg/D):0.08
Model:YDS-10
Volume(L):10.8
Caliber(mm):50
O.D(mm):304
Height(mm):550
Net Weight(kg):5.8
Static Storage(D):105
Static Power Dissipantion(Kg/D):0.08
Those content above is detail information of [liquid nitrogen container]. If you want to get more information about product price,type,function and so on, Please contact us soon.
Company: Henan Tianchi Instrument & Equipment Co., Ltd.
Tel: +86-18037306236 +86-0371-55688298
Fax: 86-0371-65715725
E-mail:604897362@qq.com 
Address:Jinshui District, Zhengzhou City, Zheng Hua Road No. 100