Liquid nitrogen container YDS-50B-125
  Our company is offering a wide range of liquid nitrogen containers, which is designed to safely and conveniently transport and store small volumes of liquid nitrogen in laboratory or workplace. These are available in various capacities and sizes along with reference tube. Our range combines superior vacuum design and multiple layers of super insulation technology to achieve superior thermal performance.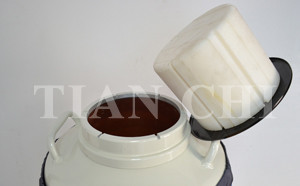 Main Structure and feature
  The Container is mainly composed of outer shell, inner vessel, neck, multi-layer heat insulation and canister etc.
  1. The outer shell and inner vessel are made of the aluminum alloy plate featuring light weight, high cryogenic strength and corrosion resistance.
  2 .The neck tube is made of glass fiber reinforced plastics featuring high mechanical strength and low heat conductivity.
  3 .The multi-layer insulation is composed of the reflecting screen of aluminum foils with high reflectivity and insulation material with low conductivity and low gas-passing speed to reduce heat radiation.
  4 .The jacket between the outer shell and inner vessel is high vacuum to prevent thermal convection. Moreover, an adsorbent with a high adsorbing capacity at the cryogenic temperature is used to ensure the long-term stable and reliable performance of container.
  Those content above is detail information of [liquid nitrogen container]. If you want to get more information about product price,type,function and so on, Please contact us soon.
  Company: Henan Tianchi Instrument & Equipment Co., Ltd.
  Tel: +86-18037306236 +86-0371-55688298
  Fax: 86-0371-65715725
  E-mail: 604897362@qq.com
  Address:Jinshui District, Zhengzhou City, Zheng Hua Road No. 100