About this product
The product is made from aluminium oxide. With three-dimensional structure, low bulk density, high porosity, high temperature and chemical corrosion resistance and high surface area, it can be used to filtrate liquid aluminium.The size and shape can be customized.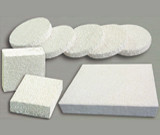 About us
Shandong Guiyuan Advanced Ceramic Co., Ltd (Sicer), originally Shandong Institute of Advanced Ceramics, was founded in 1958 and used to be affiliated to the National Ministry of Light Industry. Now Sicer is a national high-tech enterprise based in Zibo, Shandong Province.
Sicer has more than 58 years' experience in researching on inorganic non-metallic materials and specializes in producing high quality porcelain for daily-use, ceramic foam filter for metallurgical industry, dewatering elements & cleaner cone for paper industry, and so on. We have established strict quality control system with ISO9001 certified.
About our products
Utilizing high quality raw material and advanced eco-friendly production technique, Sicer develops ceramic foam filters with different materials and specifications that can be used to filter liquid metal such as aluminium alloy, copper alloy and cast iron. This product has characteristics such as, three-dimensional structure with low bulk density, high porosity, high temperature and chemical corrosion resistance and high surface area. It can be applied in molten metal filter, gas processing, catalyst carrier, car emission devices, handling for industrial sewage, heat exchanger and special filler in metallurgical industry.
Contact us
Add: No.286 Liuquan Road., Zibo National High-tech Industrial Development Zone, Shandong, China
Contact: Gavin Wang
Fax: 0533-3582244
E-mail: sicersales@foxmail.com
Website: english.sicer.com
Packing & Transportation Packing: Carton, corrugated carton, wooden box, fumigation wooden case; With sponge filling to eliminate or avoid shock or breakage are avaiable. Transportation: Motor transportation, water carrier, air-transportation or posting are avaliable. All packing and transportation are friendly negotiated with customers.
Sales Services With specialized and professional capacities in researching, designing, manufacturing, quality controlling, Sicer wants to guarantee that the selling service is the best. Sicer's marketing and selling department serves during the whole process of selling, such as, pre-sales consulting, sales negotiation and after-sales service. Sicer provides 24*7 mode after-sales service. If any helps needed for the using notice, uncertainty in working conditions, quality problems, and others, please contact immediately.