pls click the product photo to see the more detailed pictures
Product name : TOYOTA LAND CRUISER FJ150 ABS fender trims [Silver color ]
Specifications: Dedicated for special cars Applicable automobile
Use for: TOYOTA 2010-2013
Packaging information: 12 pieces as a set.
Product Description:
Color: green , black , pearl white color , super white color , without painted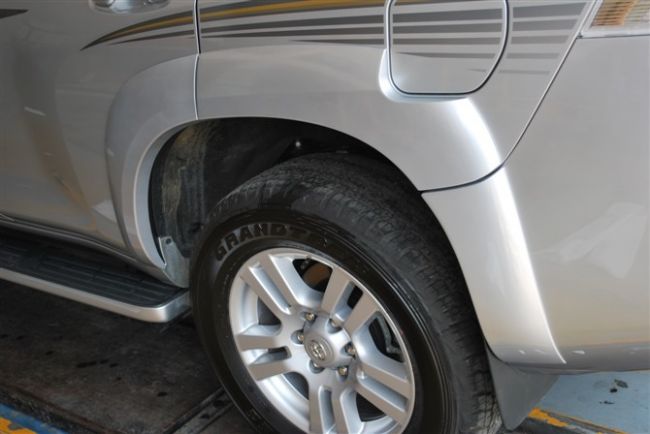 QUESTION AND ANSWER :
---1? How to installtion TOYOTA LAND CRUISER FJ150 ABS fender trims [silver color ]
1, surfacecleaning. Paste surfaces should be kept absolutely clean and dry, no fiber lossavailable for general cleaning cloth dipped in 50% alcohol, isopropyl alcohol,acetone or toluene solution to scrub the surface by solvent cleaning solvent tocompletely play behind the subject can be pasted;
2 Product paste,paste product before the product must be installed on the site required toadjust, determine the location of product installation, then tear off the redfilm paste. Operation should avoid finger contact with the rubber surface, theproduct after pasting be with the beat, in order to ensure full contact with theplastic surface and wetting. then towel like cloth rub back and forth hard sidedadhesive sticky position! Within 36 hours after a good stick Do not wet! Do notat high speed, in order to ensure fully effective viscosity (if the weather iscold place you can use a blower or roasted gun blowing double-sided adhesive, 3Madhesive glue to ensure normal functioning of the performance, so thebetter.)
---2.TOYOTA LAND CRUISER FJ150 ABS fender trims [silver color ]
In 1, block theside of glare and ultraviolet light, reduce the temperature inside the vehicle,which can effectively shield the rain, snow, wind, sand, in the car, do notaffect the foreign exchange of air;
2, smokers of thegospel, in the rainy days in the car and no longer afraid of opening the windowafter the rain will float / Fly / THROW / shed / cast / fillin;
In 3, due to keepfresh air convection, without glass fogging and affecting the line of sight andoperation, especially when it rains before the file glass easy to knot a mistaffecting the line of sight! The rain gear would not have to worry about -window down to rain gear along the lower position, do not need to turn on theair conditioner to still can maintain inside and outside the car clean air, toincrease the driving safety;
4, in anyenvironment, can maintain the fresh air convection, improve air circulation,security vehicle suitable for human needs;
In 5, with theshape of the automobile body design of integrated, unified and perfect bodylines, be good to hear or see, can match any color of the car, for your car toincrease the beautiful.
------ 4 TOYOTA LAND CRUISER FJ150 ABS fender trims [silver color ]]Installation instructions:
when you order it . we would pack the goods with installtion instruction for your reference .pls don't worry .
5..how to order the TOYOTA LAND CRUISER FJ150 ABS fender trims [black color ]
-----you cancontact us by sending us inquiry by email or telephone us , we would replyyou at the first time .
---- How to choose good quality TOYOTA LAND CRUISER FJ150 ABS fender trims [silver color ]
---Precautions
1, to a regularplace to buy auto parts distribution, specific brands should not be too strict,mainly see is the quality and workmanship, good rain shield in his hand andbending degree of flexibility than the larger, so increasing the barometer blocklife. [2]
2, you can alsoselect some online credibility and relatively modest price shop, shop fromonline purchase should pay attention to the operating conditions and sellersevaluations.
contactinformation :
msn : brimjets@hotmail.com
skype:brimjets
telephone -86-020-82633055
fax :020-82657911